Pureflow® Technology
With the Pureflow® technology, once a drop is dispensed through the blue tip, the single-way valve at the dropper tip prevents the uptake of air and liquids on the distal side of the bottle. Instead a one-way silicone membrane allows air to permeate back into the bottle, thereby decompressing the bottle. This specific design allows for the reduction of microbial ingress. Through this function it is possible to validate a multi-dose preservative free formulation with the utilization of this bottle.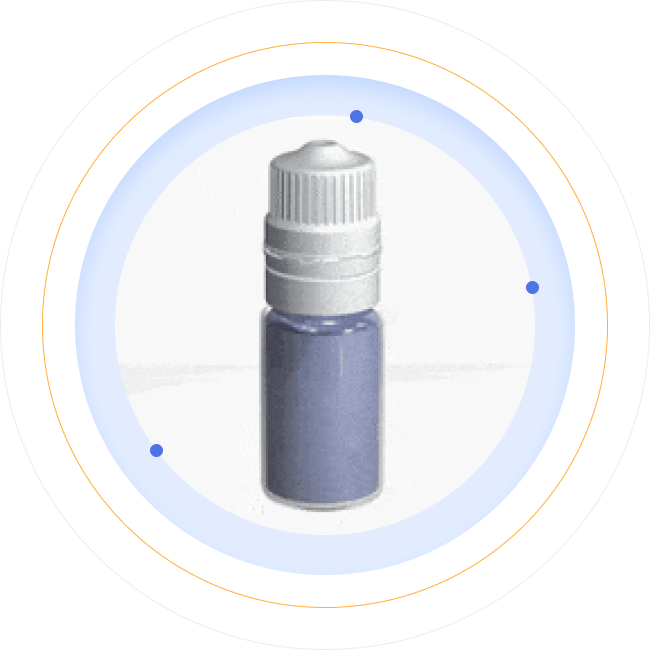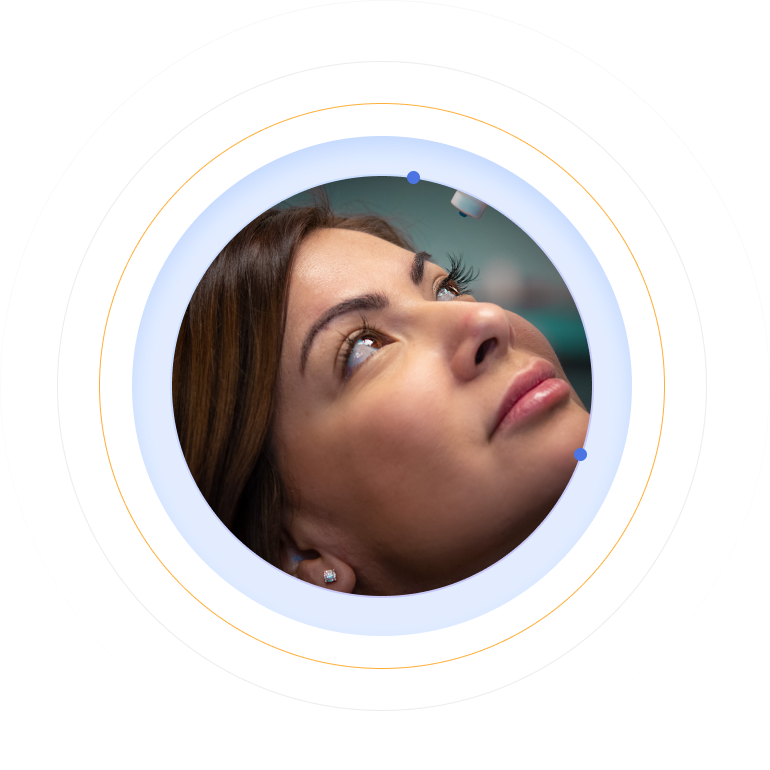 Benefits for Patients
Blue Tip for Accurate, Precise Targeting of the Eye

Calibrated, Precise Dosing for Accurate Adherence to Treatment

User-Friendly and Intuitive, like using as a Standard Eyedropper
Benefits for the Compounding Pharmacy
Ability to Compound Numerous Ophthalmic Formulations in One Bottle

Ideal for Patient with Sensitivity to Drug Preservatives

Ideal for Use in Production of Autologous Serum Tears

Simplified Assembly Process Thanks to the Preassembled, Tamper-Proof Cap and Nozzle

No Need for Additional Assembly Equipment Making the Bottle Perfect for Small Scale Compounding Operations

More Sustainable and Affordable than Existing Multi-Bottle, Single-Use Unit Dose Packaging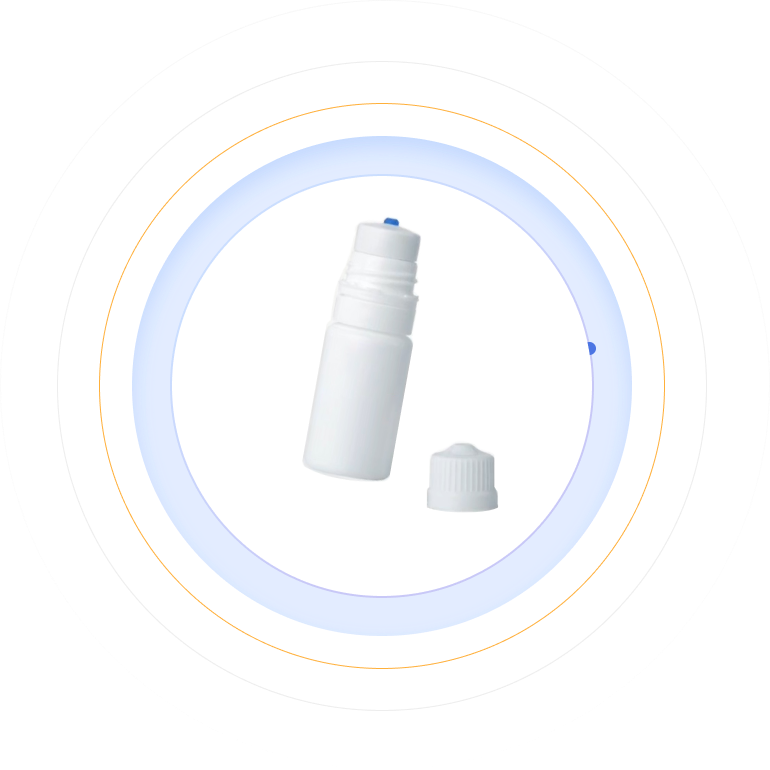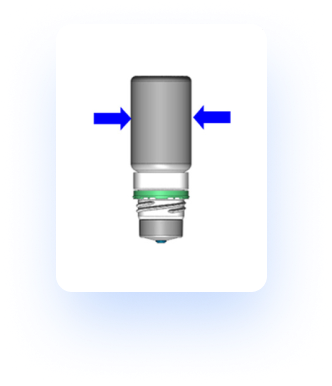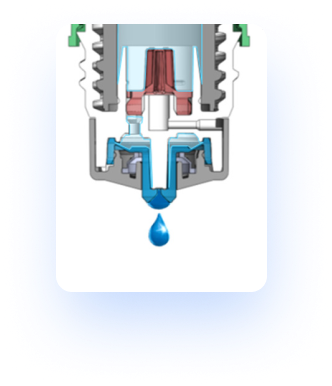 Valve Opening: Drop delivery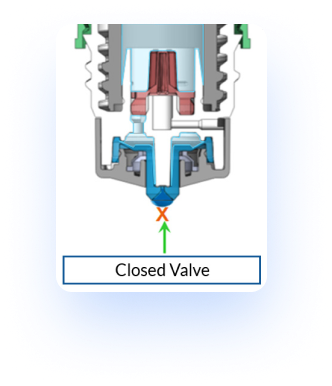 Valve Re-closing: Valve re-closes sealing the bottle tight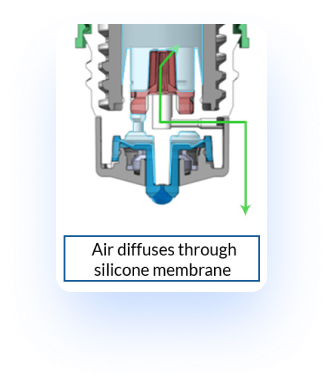 Air Compensation: Pureflow® technology allows air to diffuse into the bottle
Frequently Asked Questions

What final release testing is performed for these bottle products?
| | | |
| --- | --- | --- |
| Test | Method | Component |
| Sterility | Direct Transfer Method Embedded Spore Strip accredited to the ISO 17025 | Bottle, Tip, Cap |
| Endotoxin/LAL | ISO 17025 – (USP), General Chapter <85>, (USP), General Chapter <161>, Medical Devices | Bottle, Tip, Cap |
All testing is performed by qualified third party testing labs contracted with MPS Pharma. The final measurements are all reported on our current Certificate of Analysis.
Can I see a sample Certificate of Analysis that comes with this product?
See the following attached PDFs:
How do I select the correct nozzle size?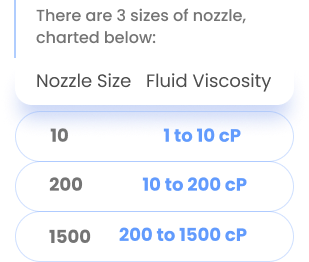 A quick functional check of your solution can be performed via following test.
Adding solution to bottle and closing up with cap
Turn upside down periodically and drop out solution, repeat this for a few days.
Solution should come out in nice drops
If bottle is very hard to squeeze a drop out >> Go-up a size (10 to 200)
If the solution streams,, go down a size (200 to 10)
Further testing can be performed in coordination with Nemera and their lab testing services.
I am producing autologous serum tears. What is the best nozzle selection for this?
We have found through end user trial and error, the best selection for this application is the 200 nozzle.
What sort of validation data can be supplied on this product?
There are several levels of data packets that can be shared for this product some of which will require an NDA to receive. Below is a description of the packets
| | |
| --- | --- |
| Packet Level | Contents |
| Pack 0 | Product overview |
| Pack 1 | Capping recommendations |
| | Functioning & Composition (light) |
| | ISO Certificates |
| | Product Performance & Microbiological Package (light) |
| Pack 2 – NDA required | Product Composition (detailed) |
| | Product Functioning (detailed) |
| | Product Performance & Microbiological Package (detailed) |
| Pack 3 – NDA required | Raw Material Compliance |
| | Silver Ions Evaluation |
Why did the product I ordered come with two different part numbers inside the box?
This product has a special operational set-up at MPS. The purchased part is a 'kit' of two separate line items. The bottle is sterilized separately (ETO) from the cap (gamma). Final product is kitted and sold under one line item. Example of this:
Customer Order: PF-P2-1110
Product Shipped: Outer Box Label – PF-P2-1110, Inside Contents: 25 2-Packs PF-N2-10 & 25 2-Packs PF-B2-11.0
A final cert will be provided for item PF-P2-1110
Do these come sterilized? How?
Yes. Products sterilized and released to sterility assurance level (SAL) of 10–6. The caps come sterilized via Gamma sterilization. The bottles are sterilized via ETO.
What are the pack sizes? Can I get a special pack size?
We are currently carrying out this product in 1, 2 and 100 pack sizes. We try to provide stock sizes for small and large batch compounders. We have the capability to provide special packaging configurations for our customers. Reach out today to begin collaborating.
How long can preservative free solutions be held in the bottle?
The bottle has undergone performance tests of the closure system demonstrating that the bottle can maintain sterile contents over three months of treatment. The test conditions of the study had represented a sever misuse of the bottle over that three-month period.
It is however the responsibility of the compounder to validate that the bottle and in combination with their specific drug are able perform as reflected in the study.
If I open the pouch, will the bottle contents still be sterile?
Once the pouch has been opened, then by the definition the parts cannot be considered sterile, unless the pouch is opened in a controlled sterile environment.
What is the drop size for these bottles?
Drop size is dependent on several factors including the product being dispensed and the technique in which it is dispensed. The best advice for customers is to test the dropper tip with the compounded product to determine its suitability in its application.
Different nozzle sizes are available that determine the nominal drop size. MPS Pharma always carries a standard size 2.4 mm in stock. The 2.4 mm tends to cover most compounding usage cases. Other sizes are available via a special-order request.
A general water reference point can be provided to our customers as a starting guideline:
| | | |
| --- | --- | --- |
| Valve Version | Nominal Drop Size | Status |
| 1.6 mm | 28 uL | Special order |
| 2.0 mm | 33 uL | Special order |
| 2.4 mm | 40 uL | Standard Stock |
| 2.7 mm | 43 uL | Special order |
| 3.0 mm | 46 uL | Special order |
| 3.6 mm | 53 uL | Special order |
What are the bottles made of? Can more information be shared?
The bottle itself is composed of LDPE. The cap/nozzle portion is a multi-component system composed of HDPE and silicone rubber.
A more detailed material profile is available to share with customers who complete a non-disclosure agreement.
Below is a diagram available to share (click on image below for higher resolution):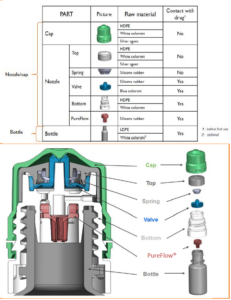 Do you carry bottles that offer UV protection? Is there data available to share?
MPS carries a series of white bottles and nozzles that can be used to create a container closure system that protects a solution from UV light.
Specific testing standards surrounding UV protection of solutions are always performed using the container closure system itself plus the drug contents. MPS does not provide drug with the bottle, therefore no meaningful data can be provided that our end user pharmacies may leverage for their own purposes.
We can anecdotally report however that our customers do routinely use specific products of ours for light protected solutions. Those same customers do report the bottle, in combination with their drug product, pass the UV protection requirement as defined in the existing testing standards.
Please reach out to us to find out which items would work best in supporting a successful passage of these tests.
Our pharmacy follows USP <797> and it requires we use depyrogenated materials. Are your products depyrogenated? Do you have a Certificate of Analysis (C of A) stating such?
All MPS lots are tested for endotoxins (pyrogens) and will meet the materials requirements as defined in USP <797>. A detailed explanation of this can be found in this PDF link. All MPS C of As include measurements for these endotoxins.
Have any questions?
Contact our Customer Service team for additional support at
(844) 641-3814 or by email at [email protected]