Variable Volume
The pump can be programmed to dispense samples with a volume of between 1 and 4095 ml.
Variable Drawback
At the end of each individual dispense, the pump can be programmed to draw back by a volume of between 0 and 9.9 ml.
Dual Mode
The pump can be operated in either manual or automatic mode. With manual mode, a single dispense is made each time the pump is activated via the START button or foot pedal. In automatic mode, a user can pre-program a number of cycles with a time delay eliminating the need for any manual start/stop.
Foot Switch
A foot switch can be connected to the Pharm Pump III allowing hands-free start, stop and resume of all pumping functions. This switch directly mimics the operation of the START/STOP front panel keys.
Calibration
To compensate for variables such as fluid temperature/density or device back-pressure (such as those from elastomerics), the Pharm Pump III can be accurately calibrated. This may be done when changing setup, or even in the middle of a dispense via the "Calibration-on-the-Fly" option.
Volume Remain
The volume of fluid in the container being dispensed from can be entered into the Pharm Pump III. Every time a dispense is made, the dispensed volume will be subtracted from this original volume, giving a running total of volume remaining and an advance warning of incomplete dispenses and needed source container changeouts. 
Setup Memories
The Pharm Pump III has twenty-six (26) non-volatile memories, each of which can store a full set of operating parameters. Any of these can be recalled in a moment allowing rapid selection of different repeated job functions.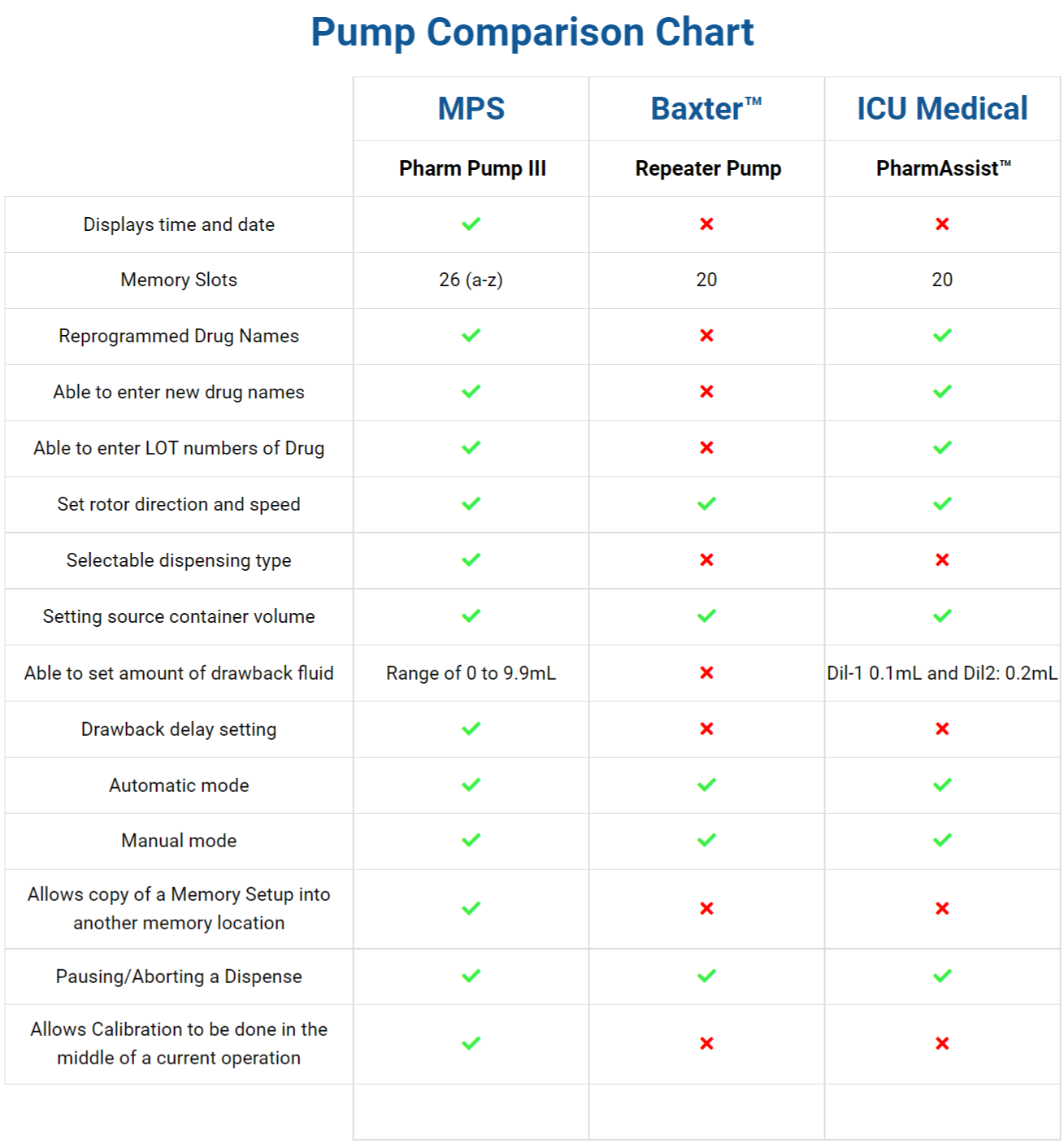 You can count on MPS to have products you need when industry pharmacy tubing supplies are short in supply.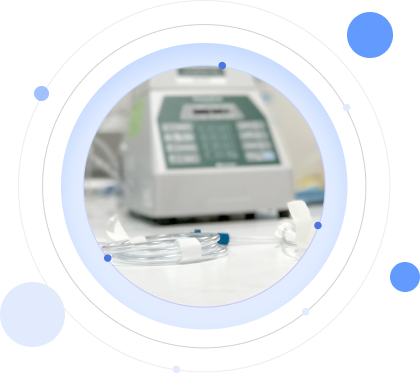 Frequently Asked Questions

What is the max flow rate of the pump?
MPS has performed a nominal measurement using water at 30 RPMs and 300 RPMs. The range was found to be between 1.064 mL/second to 9.090 mL / second. Details of this are in the document attached.
Download PDF: ADP-3000 – Flow Rate
Is there a written product manual or user manual available?
What is the difference between the ADP-3000 Pharm Pump II and the Pharm Pump III?
There is no operation difference between the Pharm Pump II and the Pharm Pump III. Details of this change are in the document attached.
Download PDF: PharmPump II vs PharmPump III
I see a printing port on my unit and some mention of this in the user manual. Is this printer still supported?
Due to low demand for printer needs, MPS no longer supports or distributes the printer. The user manual continues to reference the printer for our remaining user base who still have kept on the printing option.
What are the power requirements for the ADP-3000 pump?
Power Supply
110/115V50/60Hz single phase
220/230V50/60Hz single phase
Power Consumption: 90W
Fuse Rating: T1.6A
Can the ADP-3000 pump be used to fill an elastomeric device?
Is there a recommended preventive maintenance procedure for the ADP-3000 pump?
There are no specific preventative maintenance requirements. If you need to calibrate the pump, we made a detailed video here:
MPS Pharma performs repairs, as needed, when these pumps break down. We recommend users periodically wipe down the pump with a cleaning agent (no specific one required) and clean-up any spills on the pump when they occur.
How do I program my ADP-3000 Pump?
Have any questions?
Contact our Customer Service team for additional support at
(844) 641-3814 or by email at [email protected]